Gold Leaf & Silver Leaf Imitation and Genuine

Welcome to TalloGoldLeaf.com Retails & Wholesalers!
Your On Store For GOLD LEAF & SILVER LEAF, providing all products for gilding techniques for decoration on wood, metal and other surfaces.
You can rely on excellent quality gilding products, and the experience and our gold leaf and silver leaf processing skills. We provide Imitation, Genuine gold and silver leaf and Variegated gold leaf. Our warehouse and distribution center location, guarantees a cheaper, faster and reliable delivery of your orders.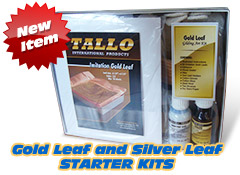 50 Sheet - Size: 6 1/4" x 6 1/4"
Imitation Gold Leaf Starter Kits
(All requiered guilding accesories included)

Now begginer and intermediate guilders have a great option to try our product !!